Nature Backpacks
Get outside and explore with one of the Abbotsford Public Library's Nature Backpacks!
Each clear backpack includes:
an informational book
Midwest field guides
a nature journal
and at least one kid-friendly tools to help young explorers learn through play
When your nature hike is finished, use one or two pages in the nature journal to record your observations and share them with the next person who checks out the backpack!
The backpacks can be checked-out for 2 weeks. Only one backpack per check-out, per family. Please have care of the books and tools in the backpacks.
Backpacks must be returned in person during the Abbotsford Public Library's operating hours and cannot be shipped to surrounding libraries.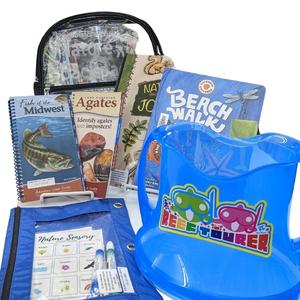 On The Nature Trail Backpack
Included in this pack:
Compass (lanyard and use instructions)
10x Magnifying Glass
Nature Bingo (1 bag, 2 dry erase markers, 6 bingo sheets)
Books:

Backpack Explorer: On the Nature Trail (one small magnifying glass)
Animal tracks: Midwest Quick Guide
Nature Journal For Little Explorers Log Book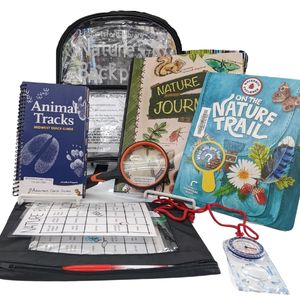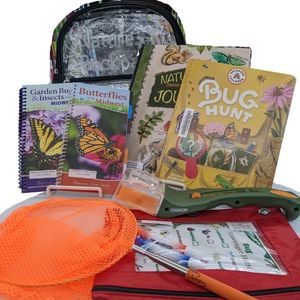 Bug Hunt Backpack
Included in this pack:
BugView Tool
Butterfly Net
Bug Scavenger Hunt (1 bag, 2 dry erase markers, 2 bug scavenger hunt sheets)
Books:

Backpack Explorer: Bug Hunt (one small magnifying glass)
Garden Bugs and Insects of the Midwest
Butterflies of the Midwest
Nature Journal For Little Explorers Log Book
Trees and Flowers Backpack
Included in this pack:
10x Magnifying Glass
Tree/Flower Bingo (1 bag, 2 dry erase markers, 4 bingo sheets) and 2 vases.
Books:

Backpack Explorer: Discovering Trees (one small magnifying glass).
Wildflowers of the Midwest Quick Guide.
Nature Journal For Little Explorers Log Book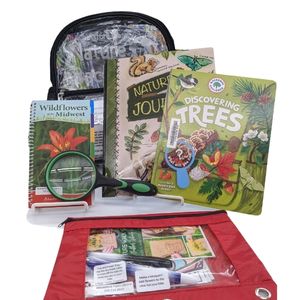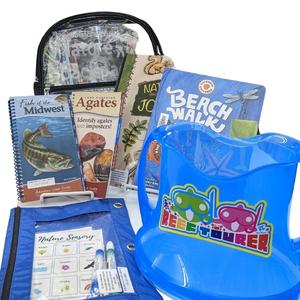 Beach Walk Backpack
Included in this pack:
Underwater Viewer Bucket
Scavenger Hunt (1 bag, 2 dry erase markers, 2 sheets)
Books:

Backpack Explorer: Beach Walk
Fish of the Midwest Quick Guide
Lake Superior Agates Quick Guide
Nature Journal For Little Explorers Log Book
Bird Watch Backpack
Included in this pack:
Binoculars (with black bag, cleaning cloth, and use instructions)
Identiflyer (Bird Song Pocket Identification Tool with 5 cards)
Books:

Backpack Explorer, Bird Watch (one small magnifying glass).
Water Birds of the Midwest
Birds of the Midwest
Birds of Prey of the Midwest
Nature Journal For Little Explorers Log Book